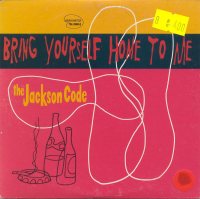 Well, my quest to collect the back-catalogue of The Jackson Code is finally over now with yesterday's second-hand purchas of del musical del mismo nombre. There's only four of them (plus a compilation with a second CD full of non-album stuff), but it's taken a while nonetheless. Citadel Records has a page for two of the albums that you can buy via mail-order del musical del mismo nombre and Strange Cargo, which incidentally I'll suggest has been way overused as an album title - see also albums by David Van Tieghem and William Orbit (who I think had a Strange Cargo 2? oh come on!). The other two albums are Draggin' the River and The Things You Need, and the compilation's called The Second Greatest Story Ever Told.
So what happened to them? I missed the boat, I suppose - by the time I was getting into this kind of music, these guys had faded while Mark Snarski's brother Rob's star was rising with the Blackeyed Susans. Mark's got a deeper kind of voice, maybe a little rougher, but occasionally he's also got a bit of the honey that Rob just oozes. Kathryn Wemyss contributes a fairly strong near-country voice, too (my high point for her is a song called It's been too long). The b-sides/rarities CD on the compilation include a few covers (Elvis, Tom Waits) along with a song they wrote unsuccessfully one year for the Spring [Horse] Racing Carnival, which is fairly amusing.
These days, The Jackson Code's drummer Mark Dawson plays with the Blackeyed Susans (he also worked with Ed Kuepper for years such as on the completely excellent Today Wonder album, though their partnership ended a while back, now). I'm not sure about the others, but it'd be a shame to think that Mark and Kathryn aren't doing something useful with their voices.
If there's one song by The Jackson Code that you really ought to hear, it's probably the single from their final album (from 1995!) The Things You Need, called Bring Yourself Home To Me - a beautifully lonely song that's got Mark's voice in top form plus some excellent "moment" lyrics ("I stepped into a puddle when I saw someone that looked just like you"). I also picked up the single of this yesterday too, which I bought for the cover of Lee Hazlewood's Summer Wine.
Also, in the process of googling for some info I came across a review of the Rob Snarski / Dan Luscombe album by Augie March's Glenn Richards over at Newspaper Taxi, the "music reviews by musicians" site.