I managed to pop into Off The Hip for only the second time since it moved into the city (despite being a few blocks away from where I work for about half of the week) and caught up with Mickster, who pointed me to a box of new 7-inches that'd come in. I left all the Church ones behind this time, coming out with these instead:
The Springfields - Sunflower / Clown: as soon as I saw the name of the band I knew it was one that my friend Steve had mentioned at some point. What I hadn't remembered was that it's Ric Menck and Paul Chastain pre-Velvet Crush. How about that?

Psychic TV : Godstar: I guess this turned up just in time for tonight's Pink Stainless Tail album launch...
Besides that, I picked up the new Dimi Dero Inc album (he's over here from France to launch it right now - playing with the Drones tonight, for instance) along with the Sunnyboys compilation of a year or two back, and some cool rockin' guitar instrumentals by a band called Los Ultrasonoros.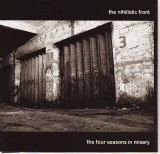 Lastly, my friend Gaz has a new(ish) act going called The Nihilistic Front, and he flung me their new 2-track album called The Four Seasons in Misery. 40 minutes of extreme fuckin' doom. Good listening while you work yourself up for the Sunn O))) / Boris tour, perhaps.