April 01, 2006
happy men
By now, you've probably already heard that Nikki Sudden died recently. Ed Baxter has a piece over on Resonance FM's blog about it, but David Nichols puts it more succinctly.
(also at Resonance, there's a nice set by DJ Olive available as a podcast.)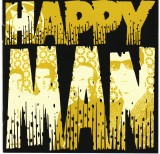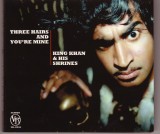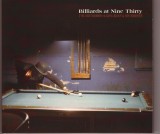 After dropping my not-so-old monitor off to get repaired (the on/off button broke!), I popped into Off The Hip for the first time in far too long. I picked up their Sunnyboys tribute Happy Man, 'cause they've been in my head a little bit recently (maybe ever since I saw Peter Oxley playing bass with Ed Kuepper and Jeffrey Wegener last year), though I only have some old second-hand compilation CD I picked up about a decade ago - this compilation looks much better, and been it's On The ListTM for ages. The tribute's pretty enjoyable, with a great opener and a couple of nice reworkings (such as Danny McDonald doing Love To Rule). I've also got a King Khan and his Shrines album plus a split they did with The Dirtbombs to digest, but right now I'm having a Royalchord moment, so it'll have to wait - I do hope Eliza and Tammy manage to do some more music despite the whole distance thing.
Plus there's the re-release of Brian Eno and David Byrne's My Life In The Bush Of Ghosts, complete with Creative Commons-licensed multitracks from 2 of the songs up on the website (sometime soon) so you can do your own remix. I guess I'll be buying it for the third time, though the first was purchased criminally cheaply on vinyl at a chuckout sale from a library at Monash Uni, and even the second was a second-hand CD purchase I think. Hm.

22:32

music · comments (6)
Comments
Andrew,
I dare you to not buy any CD's or books for a month. Stop consuming. Sit in your room in Preston and say and do nothing.
Forget the Monkey puzzle - do nothing - start again - throw out everything - delete your links, stop listening and reading!
Stephen
> Posted by stephen Cummings at April 2, 2006 8:47 PM
it's a worthy goal. it's certainly one my, uh, life circumstances are pushing me toward. i find i'm attached to so many people and things and expectations that i'm losing my identity. i am, though, working on doing less.
thanks for the advice.
> Posted by cos at April 2, 2006 9:25 PM
Hey Andrew,
that was a bit ungenerous of me, I was teasing (badly). I was suddenly excited by the idea of commenting or something! I've never done it before and never will again. I enjoy seeing what you're up to at the Monkey Puzzle and also in your journal.
Sorry for being a pain.
Stephen

> Posted by stephen at April 3, 2006 6:55 AM
hey, it's fine, don't worry about it - fortunately i was able to see the humour in it :)
> Posted by cos at April 3, 2006 9:03 AM
I had no idea that David Nicholls had a blog, so thanks for pointing it out to me. I used to listen to him on 3RRR in the mid to late 80's and bought all his zines (still have them). I could never understand his Swell Maps obsession though.
P.S How's Preston treating you?
> Posted by DFV at April 4, 2006 12:48 PM
I didn't know he had a blog until a week or two ago - I came across it searching for something or other (maybe I was lookg for other people's thoughts on the Oliver Mann album). I met him once, at a garage sale my then-housemates were having. He's nice.
Preston's good! It's nice to be back on a quiet street. We should catch up fer a beer some time.
> Posted by cos at April 4, 2006 2:39 PM
Comments have been closed for this post. If you've got something to say, please contact me by other means. Thanks!