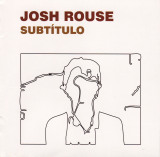 It's hard for me to listen to the new Josh Rouse album, Subtitulo without yearning for his previous effort, Nashville. It's not that there's anything particularly wrong with Subtitulo - the opening track Quiet Town starts off at, well, a quiet gallop, setting up the album to proceed fairly effortlessly. He's definitely an artist who's hit his stride, where 1972 seemed to show him reaching out and maybe trying a bit too hard to be something else. He's still messing with similar styles to then, but he seems more comfortable about it.
But Nashville, though. It starts so beautifully with It's the Nighttime, a fabulously upbeat slice of country-tinged (ok, pedal steel-tinged) guitar pop, following up with Winter in the Hamptons and it's "ba da da ba ba"s. On we go. It's a journey and we're rolling along at speed. Keeping it from flagging mid-race, My Love Has Gone pops up as another winner, with its low-key groove and the line "and I sleep with the TV on, it's the only sign our love's gone" reminding me of Duran Duran's (bear with me, here) Ordinary World where he says "I turned on the lights, the TV and the radio, trying to escape the ghost of you". While Luke Haines might've allegedly picked The Go-Betweens' Oceans Apart as a winner solely upon hearing the opening track (I liked Here comes a city too, but the rest of the album hasn't made an impression on me. yet.), I'm voting for Nashville as an album with a perfect opener, one that sets the scene such that the album can continue on its way without losing momentum.
Meanwhile, after having it for a week or two, I'm listening to Subtitulo again, looking for a spark, something that'll kick the album into the high rotation I gave Nashville. I'm by no means unhappy with it as a purchase (even one that's in my slightly reformed, earning less so spending less mode) - there are enough(?) moments of goodness spread through it, but maybe it's the next album that'll really float my boat again - much as Under Cold Blue Stars did two albums before Nashville.
Now that it's finished, I'm off to listen to David Kilgour yet again, because I can't help myself. I've even been using a couple of tracks by The Clean - one as the default ringtone, another as the alarm - on my phone, because I'm so in love with that New Zealand guitary goodness. Call me a traitor...