September 16, 2005
new bully in the town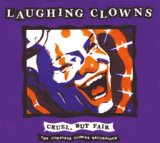 The Laughing Clowns compilation Cruel, But Fair has hit my desk (after ringing up and ordering it only this time yesterday!), numbered 24 of 200, with a signature from Mr Kuepper himself on the front. I'm looking forward to working my way through it (and the two other Paik albums I picked up from Cumbersome yesterday arvo) in between sessions at the Cisco Networkers conference next week.
If you want to get your own real soon, see here.

11:00

music · comments (2)
Comments
Andrew, I'm extremely tempted, but $60 is a fair whack.
P.S I was looking out for you at the Mountain Goats the other night. Wasn't sure if you liked them. Also went to the Winter Ship last night but left midway.
> Posted by DFV at September 16, 2005 11:49 PM
Yeh, I wouldn't have minded seeing the Mountain Goats again (I saw 'em/him last time), but didn't quite make it.
> Posted by cos at September 17, 2005 8:39 AM
Comments have been closed for this post. If you've got something to say, please contact me by other means. Thanks!