I just downloaded some Jens Lekman mp3s from Secretly Canadian and discovered that acb is, of course, absolutely right - I should go and buy all of his stuff right now. Wow. He's got a voice that makes you think of Stephen Merritt. Black Cab is especially nice. I'm listening my way through his b-sidey/demoy stuff right now.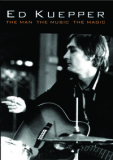 In other news, I picked up the Ed Kuepper DVD, which is all very nice but seems to be concentrated around 1988, when he had a stab at commerciality with Everybody's Got To (hence the amount of videos, I guess - if you remove the live footage, 5 of the 13 videos are from this one album!). It would've been nice to get a more even spread of his work - I can't believe there wasn't some better quality live footage, if nothing else. For a man who's released so much over the years this is surprisingly thin on the ground and doesn't live up to the name (the man the magic the music). Let's hope the upcoming 3 CD compilation does a better job of describing his oeuvre.
Ron Peno and Brett Myers did another gig at the NSC on Saturday night - did anybody make it?